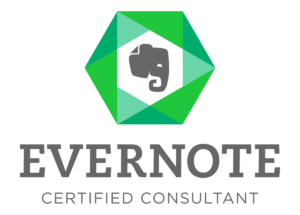 Evernote is a cloud-based tool that helps you store, organize, find, and share all of your information in any form effortlessly and across all your devices — your computer, your phone and your tablet. Penny is an Evernote Certified Consultant and can guide and train you how to get the most out of Evernote at both home and at work.
Here's just some of things we can help you do:
Help your small business team create seamless, secure workflows and systems that allows them to share ideas and collaborate on projects
Showcase the limitless abilities of Evernote's Web Clipper to clip and neatly organize information from the Web, getting you one step closer to a paper-less, more organized world
Devise tags and a naming architecture for your Evernote Notebooks to enhance its already-powerful search capabilities and ensure that all of your information can be found in an instant
Help busy solopreneurs get control of their business by using Evernote's built-in scanning features to easily corral and organize receipts, invoices, business cards, forms and more
Create Notebooks for the student in your household so that all the syllabi, teacher recordings, and scanned class notes (Evernote is great at recognizing handwriting!) can be found in one place when it's test time
Think outside the box to create virtual Notes and Notebooks so that the stuff that makes you happy — recipes, hobby ideas, travel inspirations and much more — is easily accessible on your phone, tablet, or computer
Ready to get started?  Click here to learn more:
And then contact Penny  for your first session!
Save