Storage Units: Do you really want to go there?
|| BY Penny Catterall ON July 2, 2015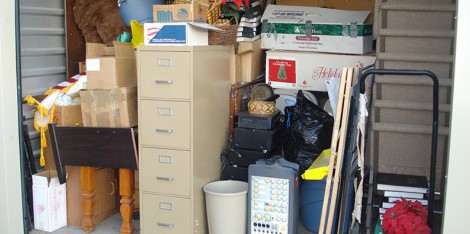 What should you do with all the extra stuff in your house that you don't have room for? A lot of people deal with this by renting a storage unit and dumping everything there. But is this really the best solution? Consider the experiences of two of my clients:
The first is a lawyer who, for several years, has been renting a $250/month storage unit on behalf of his client, a writer and historian. The unit, which cost $250 a month, held only a few boxes of papers and an empty file cabinet. Sorting through the old papers revealed that most were old bills, receipts, and financial statements that were no longer needed.  (However, if they had been important papers, a quick scan-and-shred would have reduced the pile of papers and eliminated the need for a storage space.) The remaining material consisted of diaries and research papers which turned out to have some historical value and were donated to the historical society of the town that they were written about. That way they'll be available to those who have the interest and the expertise necessary to put them to good use – not sitting in a box!  Amazingly, one of the last folders we looked through contained several thousand dollars worth of misplaced savings bonds!  The client is delighted to eliminate the need for a storage unit (saving $1800 a year) and to recover valuable financial instruments.
The second person has a storage unit full of stuff that she doesn't use (and doesn't have room for in her house) but isn't quite willing to part with. In an effort to reduce clutter where they live, the family often relegates unwanted items to the storage unit – then rarely, if ever, thinks of them again.   The storage unit costs $300/month – and is filled with things the clients cannot part with, but have little value: they are neither immediately useful nor precious.  Yet, neither partner is able to let go of them.   Over the last 5 years, the family has spent $18,000 to store items they don't use or need.
When you have to rent a separate space outside your home to store all the stuff that you can't fit inside, it's a good sign that you have TOO MUCH STUFF! It's one thing if the need is temporary (for example, when your house is being renovated, or if your job takes you to another city for a limited time), or if you truly have no room in your home for seasonal items, but some people rent storage units for years and years in order to hang on to things that are worth less than what's being spent to store them. Better to sell them, donate them, or throw them all out! On the off-chance that someday you discover you actually need one of the items you previously discarded, it'll probably be less expensive to buy a new one than to keep the old one (and all your other junk) in storage in the intervening years.
And if you have something in storage that really is valuable to you (sentimentally or otherwise), how about honoring it with a place in your home, where it can be appreciated? If you don't have room for it, chances are there's something else in your home that you could get rid of and never miss. Keep the things that you use and enjoy, and live for today – not for the "someday" when you think you'll need something that you don't want or need now.