What an Evernote Certified Consultant can do for your business
|| BY Penny Catterall ON November 3, 2016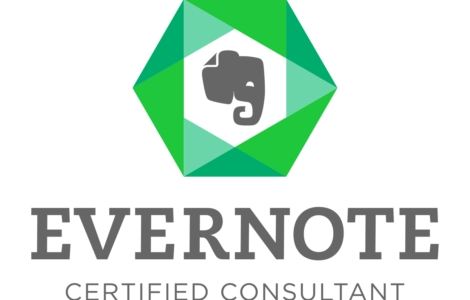 Evernote, the amazing information storage and retrieval app, is best known as a way to organize and find everything in your personal life using your computer or mobile device. I have written extensively about how I use Evernote here  and here.  But you may not be aware that Evernote can also help you or your team at work be more productive . That's the main goal of Evernote Business, and the role of an Evernote Certified Consultant is to help you maximize your implementation of this versatile and robust product.
I recently completed comprehensive training through Evernote to become an Evernote Certified Consultant, one of only 170 in the entire United States and 3 in the state of Maryland where I live. The course focused specifically on training consultants to understand all the aspects of Evernote Business, and how to help clients choose, implement and work with it to enhance productivity in the workplace.
What is Evernote Business?
Evernote Business basically takes the best features of Evernote Premium – including virtually unlimited uploads of any kind of information, the ability to annotate PDFs, presentation mode, and business card scanning – and deploys it across a team or company.  This tends to be best suited for companies or teams of more than 3 people working on multiple projects who need to be able to communicate in real time and keep all types of business information from notes to research to files centrally located, synced and updated across platforms.
Some of the other main benefits of Evernote Business include:
Data continuity – Like the other versions of Evernote, Evernote Business uses a system of notes, notebooks and tags to organize information, but the information stored in Business notebooks stays with the company, even after the employee has moved on. Personal notebooks and any information in them stay completely separate and belong to the individual who created them.
Effective information sharing – Evernote Business serves as a centralized hub for everyone in the company to communicate and collaborate, making it easy to keep track of all team projects and to share and give feedback.
Simple account management –  Administrators have access to a centralized dashboard that makes it easy to add or remove users, share notebooks across team members, and measure contributions by team members to their projects.  Billing is centralized for all users as well.
Knowledge discovery – Evernote's incredible built-in search capability allows users to find what they are looking for simply by typing in a word, and even searches other notes company-wide that might be relevant from other team members —both current AND past.
What Does an Evernote Certified Consultant do?
As an Evernote Certified Consultant, I can:
Help you choose which version of Evernote is best for you
Custom design workflows tailored to you and your team
Give you guidance on best practices for deploying Evernote across your company
Offer in-person or virtual training to get team members up to speed quickly
Over 20,000 businesses currently use Evernote to make them more productive. If you have a business that you feel might benefit from using Evernote Business, call me for a free consultation and get $25 off your first appointment before November 30, 2016.