The latest, sweetest little ScanSnap
|| BY Penny Catterall ON October 9, 2014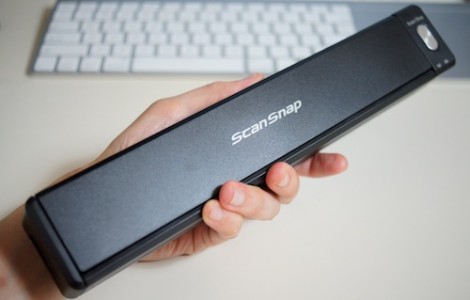 So I couldn't imagine what else Fujitsu could come up with to surpass their already amazing line of scanners, when lo and behold, I got an advance sneak peak at their latest product, the iX100 Mobile Wireless Scanner. Yes, mobile AND wireless! This wonderful little scanner (only about 11 inches long, 1.5 inches tall and 14 oz) combines the portability of the S1100 and the wireless capability of the iX500 in one compact package that I can actually put in my briefcase and use anywhere I feel like scanning, including my local coffee shop.
It works like this. The iX100 has a lithium battery that can power the scanner for up to 260 single sided scans. (You can charge it any time by plugging into a USB port or USB charger.) That means no cords at all except when it's charging and for the initial set-up. In the set-up, which is made extremely easy for both Mac and PC with the included software, the installer will ask if you want to enable wireless scanning. You definitely want to do this!
By turning on the Wi-Fi switch at the back of the scanner, you'll be able to access your local network. Just follow the software screen instructions and when that is completed, you should be able to scan documents directly to your computer, smartphone or tablet with out plugging in a single cord or wire. You do have to download the free ScanSnap app for your iPhone, Android or other device, of course. And if it can't find a wireless access point, the iX100 will set up it's own through something called the Direct Connect mode (don't even ask me how it does this!) This scanner is also really fast, scanning at 5.2 seconds per page, two seconds faster than the S1100, and almost as fast as the ScanSnap S1300i.
One feature that I was very excited about with the introduction of this latest ScanSnap was the new ScanSnap Receipt application that accompanied it. This has been a long time coming for ScanSnap, and is one of the only things its main competitor had that it did not. Now when you scan a receipt, ScanSnap will recognize it as such, and using OCR, extract the relevant information such as the amount, date, vendor, and even categorize it. It is fairly accurate, and in the event it is not, it is pretty easy to edit the content. All the information can be exported into a CSV file which can be very handy at tax time to hand over to your accountant, rather than a shoe box full of illegible receipts!
All in all, I am very excited to introduce this latest scanner to my business-organizing clients who work out of the office and need to scan documents and business expense receipts on the go. The iX100 is a very welcome addition to the ScanSnap family and I am looking forward to putting it through its paces over the next few months.  If you would like to purchase this scanner or any other Fujitsu ScanSnap, you can do so through my Amazon Shop page here.