What a "Tiny Wardrobe" means to me
|| BY Penny Catterall ON September 21, 2016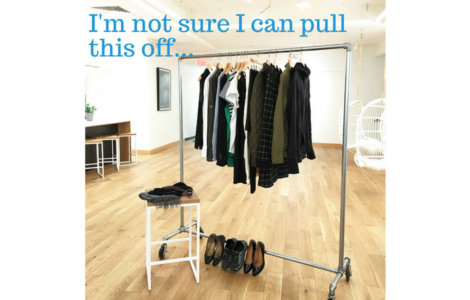 I recently learned about Courtney Carver and her Be More with Less blog, as well as her Project 333 and Tiny Wardrobe Tour through a good friend and client. As a professional organizer and minimalist wanna-be, I was intrigued by the idea of only wearing 33 things for 3 months – the idea behind Project 333. Not being one to indulge in "retail therapy" and never much of a fashionista, I have always worn comfortable flats instead of  heels, only own 3 handbags and wear the same pair of earrings and necklace for weeks on end. "This 33 items thing should be a cinch!" I thought to myself.
But after reading Courtney's blog posts, I was inspired to really re-examine my closet and my way of dressing. I realized that even I, with my fairly minimal shopping habits, had more than I needed or wore. There are gifts from family members or friends that never quite fit or looked right on me but kept out of guilt, shoes that I thought looked amazing in the store and then never wore again since they gave me blisters, and way more scarves than I really need, because who can resist a cute scarf on sale at TJMaxx for $9.99? But those things all sit in my closet, taking up unneeded space, and I still can't figure out what to wear when I get up in the morning!
I was therefore thrilled to find out that Courtney was taking Project 333 on the road via her Tiny Wardrobe Tour. When my friend asked if I'd be interested in helping bring Courtney and the tour to DC on October 18th, I jumped on the opportunity. It is now late September, and the next phase of Project 333 begins on October 1st. On October 4th, I'll be traveling to Japan for 10 days to visit my son who is studying there for the semester. This will be the perfect opportunity to put a Tiny Wardrobe into practice.
This weekend, I'll start by pulling all my clothes out and really looking hard at what I love, what I wear, and what I'm keeping just because of guilt or neglect. I'll try everything on, bring a trusted friend to advise me on what really looks good on me, and see if I can winnow my wardrobe down to 33 items from October through December. I'm hoping that having A Tiny Wardrobe will save me money, time and make getting ready in the mornings a joy, rather than a trial.
If you're in the DC area, come join us  on October 18th to hear Courtney's story followed by a Q & A session to get all your questions answered about how to implement this into your own life!