Evernote: The Power of the Extended Mind
|| BY Penny Catterall ON December 21, 2014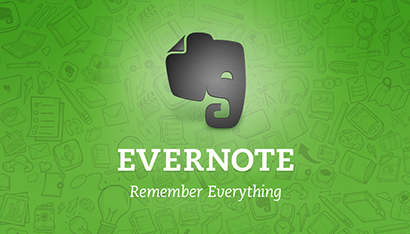 This month, I am extremely privileged to have Ray Sidney-Smith as my guest blogger on the topic of Evernote.  Ray is a bonafide Evernote guru, who uses it to enhance his productivity on many levels.  Read on to see how he uses Evernote as his "extended mind".
The Brain, Memory and GTD
In the late 90's, long before Evernote was ever conceived, I became interested in the fundamentals of the human mind. I sat for hours rapt in books about the brain's structure, human and animal behavior, and many of the theories of cognition (the brain's performance capacity). "Did you know that your brain consumes 20% of your body's oxygen and blood?" I wryly asked a coworker. "You have taste receptors in your brain," I practiced repeatedly in the mirror to keep a straight face. I was waiting for just the opportune time to tell a friend at lunch as she put a morsel of food in her mouth. The factoids were endless. I was obsessed with the brain. And more importantly, I was intrigued more by its great limitations. Is it because the brain is made of up 60% fat? Probably not. But the search for why and how to solve this unique problem would plague me for years.

The Development of Cognitive Neuroscience
Source: Wikimedia
Specifically, our brain's short-term and long-term memories need just the right methods of input engaging with as many different kinds of senses (especially targeting our visual cortex) for us to take things from short-term memory and place them into long-term storage for recall. While I have always had a better-than-average memory, I always wanted it to be better. I studied dozens of different memory techniques, like the memory palace method, but I realized at some point that my mind wasn't designed for memory in the way that I had imagined. I became fascinated by research on distributed cognition and the possibilities of a technology-facilitated extended mind. I took to writing everything down: in checklists, in journals, in text files on my computer, and calendars. I felt like I was onto something, and I was. Nearly two decades later, I read Brain Rules: 12 Principles for Surviving and Thriving at Work, Home, and School, in which John Medina writes about the sensitive environment needed for the mind to remember things. It confirmed my research. At the same time, it took me back to my concern about the fragility of the brain and its capacity to remember only in the most ideal circumstances. I wanted something more dependable. And, I needed a system for being able to support my growing number of tools and places that now made up my extended mind.
In 2001, I happened into a Barnes & Noble and purchased the personal productivity bestseller, Getting Things Done, by veteran coach David Allen. The book's title spoke to me and so did the first few pages of writing. He talked of externalizing your brain's thoughts when they come to mind into a "trusted system." That trusted system couldn't be your memory, but one facilitated by an external storage–a place outside your head. That system could be paper or digital, but it's all about getting the ideas out of your head. Why did he suggest this as a core element of the five workflow stages of the Getting Things Done (GTD) methodology (see the diagram below)?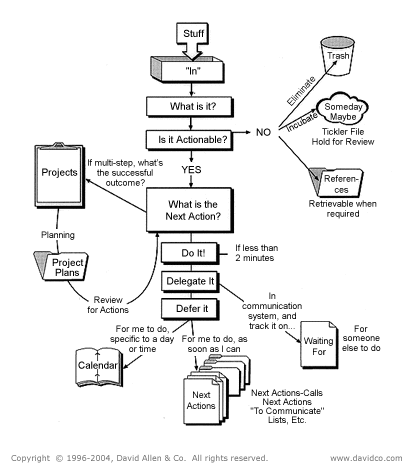 Source: gettingthingsdone.com
Simply, Allen said, your mind is for having ideas, not holding ideas. Your brain is really amazing at processing, but it's really not so great at remembering what you think up and process at the time and place you need those memories. The common example the author gives in his trainings is that you realize the need for new batteries when the power goes out, you pick up the flashlight and it doesn't work. While, you don't remember the need when you are at the store after the power outage in preparation of the next, where you could purchase new ones.
Francis Heylighen and Clément Vidal, researchers at Vrije Universiteit Brussel (Free University of Brussels), went so far in their paper, "Getting Things Done: The Science Behind Stress-Free Productivity," to explain the psychological underpinnings of the core principles of the GTD methodology in 2007 (see the diagram below). Their findings purposefully outlined the faulty nature of the brain's memory and the virtues of GTD in supporting your personal productivity. Brilliant!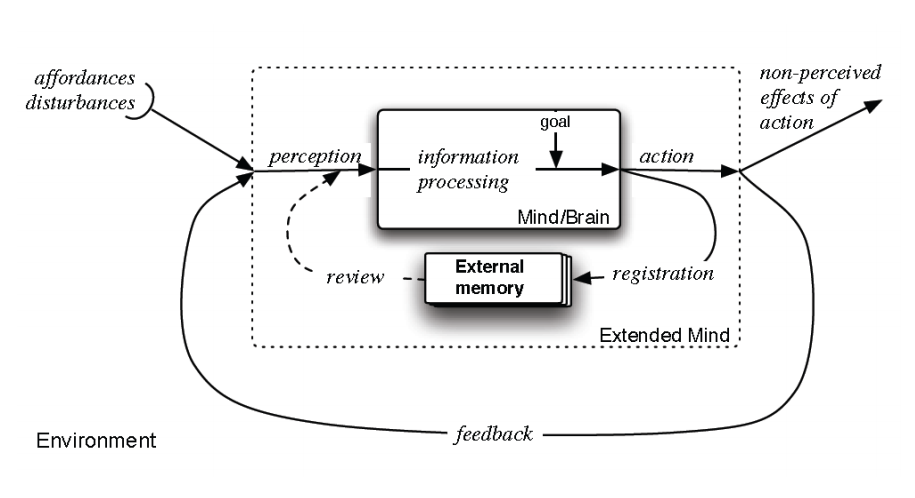 Source: cogprints.org
But, this takes me back to my original conundrum about the brain and why it's so important to your understanding of Evernote. Evolution provides us with a good, long time to develop rock-solid memories, no? Why would we forget things so easily and often? Well, I was pleased to learn that this is by design. You see, in the last decade, there has been the birth of a new branch of science called cognitive neuroscience–an interdisciplinary study of the brain, combining parts from neurology, psychology, biology and several other sciences. There is more we've learned about the brain since neuroscience has become a field of study than all the combined years of study of the human mind in history! And, one of the concepts we learned is that the brain changes (known as "neuroplasticity"); not just in early childhood development as we grow up, but throughout life and with some degree of control by us. Further, the Transfaculty Research Platform MCN, a joint project of the psychology department faculties at the University of Basel and the Psychiatric University Clinics Basel, has determined that forgetting is an active process in the brain, just as remembering is. We forget because of our ability to change our brain. If it's not absolutely necessary right now, it's dismissed. If everything was remembered, nothing could be forgotten. Your brain would become a fixed brick of knowledge and we know that what we know yesterday ("Santa Claus came last night, mommy!") is not what we know today. Forgetting protects us from delusion and severe mental disorder, in a way. Now, that's not to say that we shouldn't try to push the boundaries of our memories. However, we shouldn't try to remember things for which we only need a few times in our life, or that we can put someplace we're confident we'll look to find it when needed. My faith in our brains and our need for good systems for our extended minds is so much stronger today for this kind of research.
Brain, Meet Evernote
To live a productive life, we have to focus and that means we have to limit what we remember. Our brains know this by design, but we've been trying to force square knowledge into our roundish gray matter. And, that's where technology can be help particularly well. It can take the stuff we don't need to remember now–so we can focus–and let us recall that information quickly and conveniently when we need it. The brain need only remember where to access the information, not all the information stored via technology. Let's take the best of our brains and the best of our technology and merge them together. So, what technology could we do that with? Enter Evernote, the elephant that never forgets.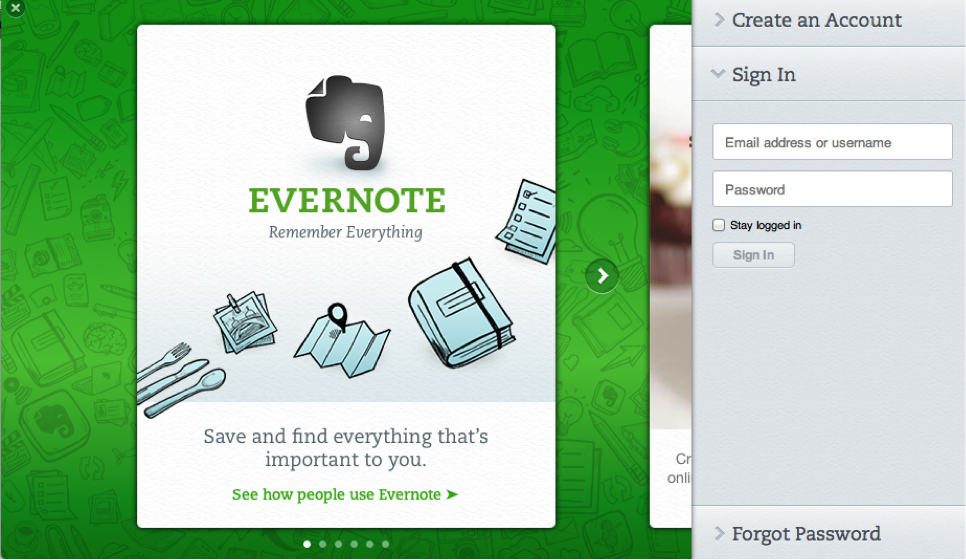 What is Evernote to Me?
Evernote defines itself as a tool to "save and find everything that's important to you." That's a tall promise! However, I think they do a great job of managing a great deal of the information you'd regularly want to offload from your memory. During the episode, "Evernote All-Star Panel Discussion," of GTD Virtual Study Group, a podcast for GTD practitioners, each of the panelists were asked to introduce ourselves and define Evernote. As one of the panelists, I said "Evernote is a digital extension of your brain's memory storage capabilities. If you can think it, Evernote has a way to store it for later and easy retrieval. That's how I frame Evernote in my mind." Evernote is a vast part of my extended mind, and hopefully here I can show you how it can be yours too.
The Basics of Evernote
Evernote is a giant box of peace of mind. Do you have a recipe you want to try for a holiday dinner with your family? Save it in Evernote. Do you have a blog post you're writing with pictures and lots of links (like this one)? Write it in Evernote. Do you have an ebook you found on building a treehouse for the kids? Yup, put that PDF in Evernote. You can set that recipe to pop up a few days before the holiday so it can remind you to grab all the ingredients. You can have your task management system remind you daily to work on that blog post before it's due. And, you forward via email that PDF ebook to your friend that's an architect (with promises of copious beer and pizza for his assistance)! In these ways, and so many others, Evernote has you covered because it automagically synchronizes these notes to your computer, mobile tablet and smartphone so it's with you when you need it.
Evernote starts with signing up for a free account by visiting http://evernote.com. Therein, you get 60 megabytes of transfer credit per month to start putting parts of your extended mind into Evernote. You do that most fundamentally by creating a new "note." This looks similar to a clean sheet of paper, but more functional like a new document in a word processor. You can type (and style, number and bullet-point) text, record audio, drag-and-drop files and pictures, draw freeform, scan business cards and other documents, and clip Web pages with the Evernote Web Clipper browser extension (like you'd clip newspaper articles out of the Sunday Washington Post) into Evernote. The choices are all yours.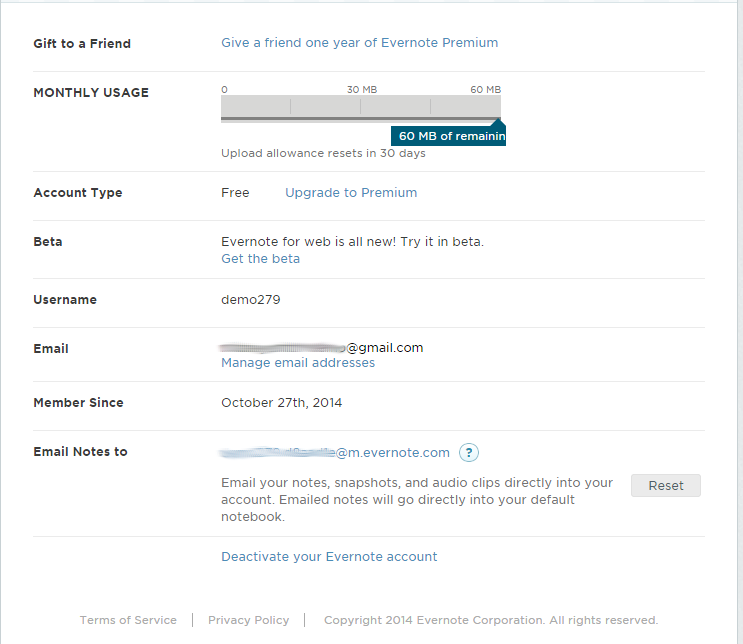 A quick review of the account shows how much you've used Evernote for the current month, points you to your Evernote "Email Notes to" email address (so you can email directly into Evernote new notes and files), and other functionalities.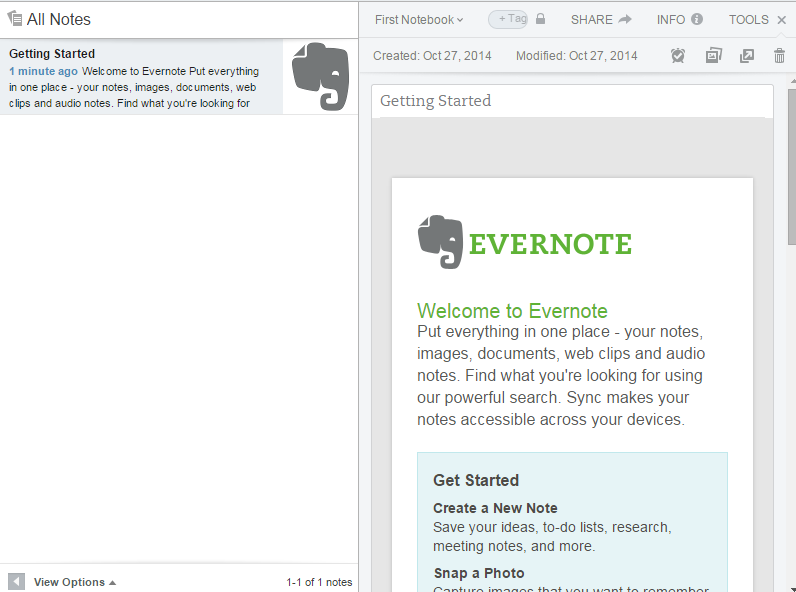 Evernote Notes
When you visit the Evernote Web interface, you can see that Evernote has given you your first note and provides some helpful instructions. There are three vertical panes to the current Evernote Web interface and from left-to-right the two right panes show your notes and currently-selected note, respectively. Evernote Web beta is currently being tested so this will change the interface but the fundamentals of what I'm discussing here won't. Here in the rightmost panel, you can manage your individual note. Back in the center column, you can select several notes (i.e., control/cmd+click for multiple, noncontiguous notes, shift+click for a series of connected notes) to manage together. If a note is like an individual sheet of paper, the next level of management would be to put those sheets of paper in a notebook.
Evernote Notebooks
In Evernote, the leftmost pane you're given the ability to create shortcuts and tags (which I won't get into in this article), but more importantly to create notebooks. So, keeping with our examples above, I could create new notebooks called Recipes, My Blog and Treehouse. One represents a library of culinary knowledge, another an ongoing workspace for new blog entries and underlying research, and the final is a repository for a specific project that will end where I might put blueprints and supporting documents to share with others. Upon account creation, you have what's called your "Default Notebook." If you email something into Evernote via your "Email Notes to" email address, this is where it will go. And, you can direct an email into another note by simply adding "@Notebook" (e.g., @Recipes, @My Blog, or @Treehouse) in the subject line of your email bound for Evernote.
Evernote Notebook Stacks
So, with several notebooks at your disposal you can now drag one or several notebooks onto another to create your first Notebook Stack. Similar to a physical set of notebooks sitting in a pile, you can create five different notebooks, such as Breakfast, Lunch, Dinner, Dessert and Beverages, and drag the last four onto Breakfast to create a "Recipes" notebook stack. While you don't necessarily need stacks, it is one additional way that many Evernote users appreciate the ability to organize their extended minds quickly and easily. One Evernote management tip: if you plan to have project-based notebooks in Evernote, once you have a few completed projects create an "Archived" notebook stack and that way you can tidy up your current view of Evernote. Those completed project notebooks can be pulled out of view, while still be easily accessible for future reference (or as a template for future projects).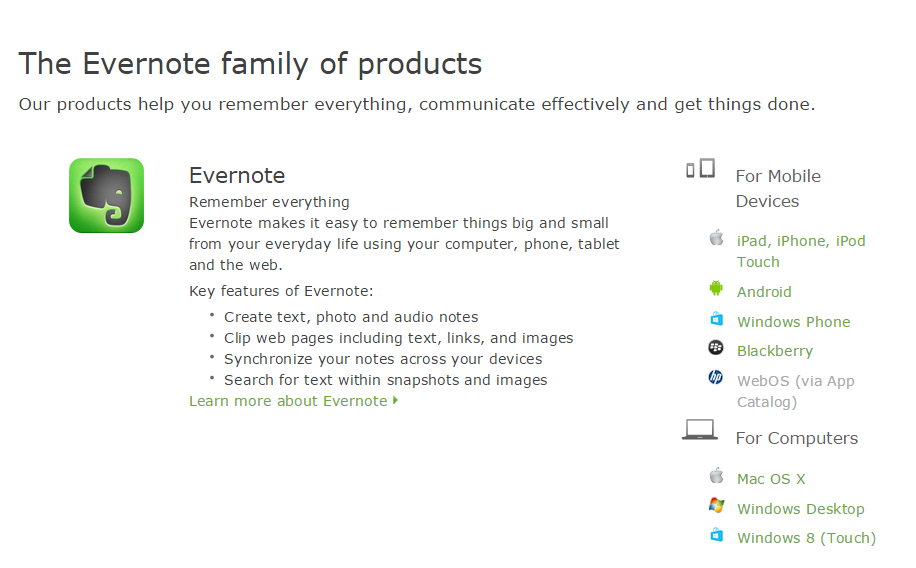 Evernote Everywhere
But, the power of Evernote doesn't stop at Evernote Web. As I noted earlier, Evernote is available on the major operating systems so you can install it wherever you need your extended mind.
Platforms supported include:
Microsoft Windows 8,
Microsoft Windows Phone,
Apple iOS (iPad, iPhone, and iPod Touch),
Apple Macintosh OS X,
Android,
BlackBerry,
Hewlett-Packard WebOS,
Web browsers (Internet Explorer, Firefox, Chrome, Opera, and Safari all work well), and

When you are using Evernote to clip Web pages, you can do so by selecting specifically-highlighted text, as well as the whole Web page, article, simplified article and several other filtering options, using Evernote Web Clipper. This fantastic browser extension works in all the aforementioned Web browsers and adds a cool additional benefit of displaying searches of your Evernote notes alongside your Google searches. But Evernote knows how to outclass its competition; it doesn't end at its own functionality on all your devices.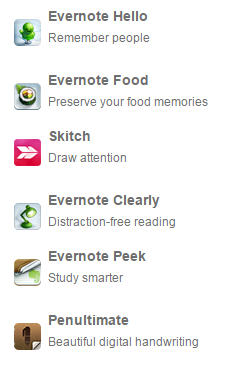 Extending the Power of Evernote
With an ancillary corps of applications that work with Evernote, you can support different areas of your extended mind easily. From saving articles to read later with Evernote Clearly to managing your contacts in Evernote Hello, these additional apps are all available from Evernote. This is not even the tip of the iceberg when it comes to Evernote's integrations within the Evernote App Center; if one of the above-pictured Evernote apps doesn't fit your needs there's likely one in the App Center that will. There are scanners, Evernote Moleskine weekly paper planners, Evernote Post-It Notes and more in the Evernote Market that are excellent solutions if you have a need in those departments.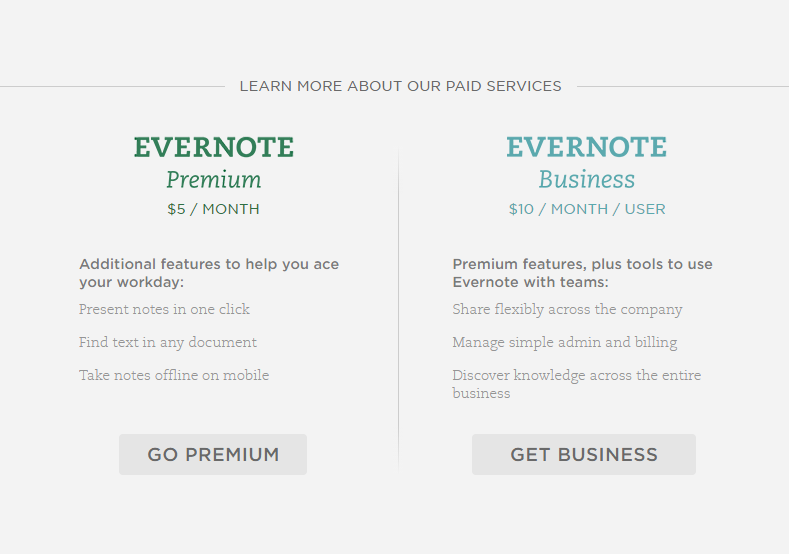 Evernote Premium and Evernote Business
Speaking of departments, once you have invested in Evernote personally you'll see how much it starts to support you in your professional world as well. I just started tracking the hundreds of business cards I receive every year in Evernote, because I can annotate each person's note that I meet for later recall when I'm on the phone with them, or right before I'm about to meet them for lunch. In this way, Evernote starts to amass far more monthly data than the 60MB transfer limit can provide, and that's where Evernote Premium steps up to the plate. With unlimited uploads and the ability to save notes offline (should you not have Web access available on a regular basis), those are just two reasons you'd want to upgrade to Evernote Premium. And, if you start to convert Evernote users in your company, you might want to upgrade to (or pitch your IT and C-level executives for) Evernote Business so you can work with teams in Evernote.
Final Thoughts on Evernote
While my pursuit of living the good life leads me down an endlessly-intense and thrilling research path into the inner workings of the mind, I hope you don't have to work so hard. If you want to learn more about the depth with which Evernote can be invested without all the toil, check out Evernote Essentials: The Definitive Guide for New Evernote Users by Bretty Kelly, or How To Use Evernote: The Unofficial Manual (which is freely downloadable in PDF and ePub also) by MakeUseOf.com. They're definitely great resources to get started.
As we come to a close on this journey from studying the mind to forgetting purposefully into Evernote, I leave you with a warning: don't become a digital hoarder! Create a framework for what is worthy of being saved, and therefore remembered. Not everything deserves saving. Your mental organization, or disorganization for that matter, is what controls your physical world. Typically your physical world will start to show signs of your mental world when it's either in emotional or logistical turmoil. And, Evernote will reflect that as well. Evernote is part of my extended mind in my trusted system, and I hope that it will be in yours too.
—
Ray Sidney-Smith is a personal productivity and GTD enthusiast, and the blogger, podcaster and organizer-facilitator behind Two Minute Rule, #ProdChat, ProdPod, Productivity Book Group, GTD-DC Meetup and GTDNYC Meetup, among many other productivity-inspired projects.