Get control of your purse
|| BY Penny Catterall ON October 13, 2012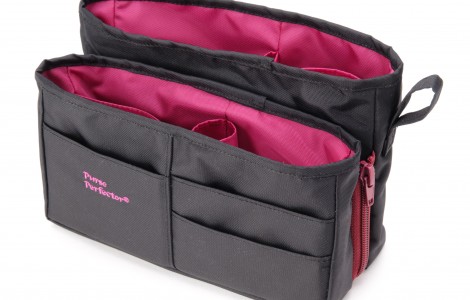 Most of us women carry our lives in our purses or handbags, so it is essential that we be able to find the things in it quickly, but this is often not the case! Here are some simple steps to organizing that extra limb of your body, otherwise known as your purse:
Put the same things in the same place.  Train yourself to put your items such as your cell phone and keys in the same pockets, so you will automatically learn where to reach for them.
Clean out your purse regularly (at least once a week).  You would be surprised at the amount of junk, including kleenex, old receipts, gum wrappers, etc that can clutter up your purse and hide the things you really need.
Use a Purse Perfector organizer like the one above to organize all your items for easy access and maximum visibility. Made in America, this unique design allows for simplified organization with no more digging at the bottom of a purse for keys or lipstick. And because it's so easy to transfer to another handbag or bag, the Purse Perfector enables women to change purses more often, maximizing their handbag collection.  I bought one in March at this year's National Association of Professional Organizer's conference, and haven't been without it since! They come in several different great color combos (I have the one above), and a medium and large size.